---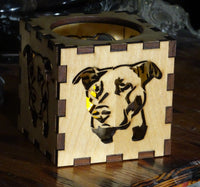 This beautiful Pitbull Votive is cut to perfection in various patterns.  
The selected pattern is repeated on all four sides.
A scentless, White candle votive is included with every box.
3" x 3" x 3", wonderfully finished birch wood, makes it great to place anywhere.
Please remember that wood is a very cosmic material; Therefore, natural color and grain will vary from piece to piece.

These lamps are illuminated by a Candle Votive (included!) inside.  Each votive is secure with an inner ring to prevent it from moving around, yet the candles can be removed and replaced with a flame-less LED tea-light or a small terracotta pot (Both not included)
The patterns will shine off the adjacent walls to add a sense of warmth and welcoming to your home or space.
Use these for tabletops, wedding centerpieces, mantels, office desks, bathrooms, and many more!
The Lamps are great gift ideas with a uniqueness you won't find anywhere else and are a very popular craft show item.